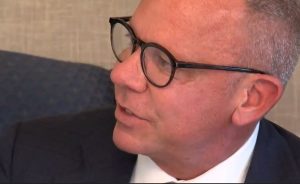 A man sexually assaulted by a priest in Georgia now says it wasn't just one, but two priests who abused him as a child, He claims the second priest was a pastor from the Diocese of Charleston.
Our story starts in Savannah, Georgia. "Everybody I knew was Catholic," Chris Templeton said, one of five children growing up in Savannah in the 80s.
"I was 4th generation Irish Catholic in Savannah and we lived in a neighborhood right across the street from the church."
His parents were active in Savannah's St. James Catholic Church and School, a member of the Templeton kids who attended St. James for 27 straight years.
"There was six, seven or eight groups of us that all during the summer went to St. James' field and play football, baseball, and basketball. All of a sudden, there was a new priest there that had a Toyota Tacoma pickup truck. He loved coming to watch us," Templeton said.
A priest named Wayland Brown. The same Savannah priest who is now behind bars in South Carolina, serving 20 years for sexually assaulting children, but not before he met 13-year-old Templeton.
Read the full story here.