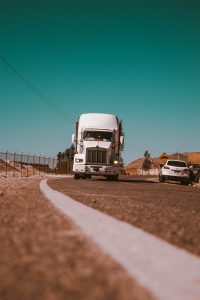 All road accidents are dangerous and harrowing experiences. However, with a tractor-trailer crash, it is usually even more devastating. Staying safe on the road means knowing how to share the highways with big rigs. It's important to know why tractor-trailer crashes are so much more dangerous.
An accident involving a semi tends to be even more severe than a car crash involving regular passenger vehicles. There are a number of reasons for this that you should know so that you can take precautions while on the road.
Large, Heavy Loads
Tractor trailers typically carry large, heavy loads from one place to another. These vehicles are built to be able to do this, but even trucks have their limits. If a big rig is overloaded, it can create a dangerous situation not only for the truck and its driver but for everyone else on the road and lead to an accident. The tractor-trailer can tip over or the cargo can become loose if it's not completely secured to the truck's bed. Sometimes, the big rig might be transporting hazardous substances like gasoline, metal or chemicals and disaster can strike.
In some cases, the driver may be negligent and stop improperly or travel at too fast a speed to stop in time. Other times, the trucking company is at fault for an accident that occurs because of an overload as a way to save time and money without putting others' safety first.
Limitations on Height and Weight
Big rigs tend to be over a certain weight, which makes them dangerous for traveling in certain areas, particularly on bridges and some highways. In addition, due to the height of many such trucks, they are unable to travel under some bridges and overpasses. As a result, the Department of Transportation has to approve their routes ahead of time. If a driver ignores this rule and travels in areas where there is a potential for an accident, it can lead to disaster.
Dangerous Driving Conditions
It can be dangerous enough driving a tractor-trailer, but in certain weather conditions, it's even riskier. In many areas, trucks are not permitted to travel at night. When it rains or snows, the roads are slick and visibility may be reduced, which means the driver has to take extra care when slowing down or stopping. In some cases, even when drivers are more cautious, they can still get into an accident. This is especially the case when the driver is tired from many hours of driving.
Driver Error
It's very common for driver error to be responsible for crashes that involve a tractor-trailer. In fact, around 87 percent of all such accidents that result in serious injuries or death are caused by an error made by the trucker. This can happen because the driver travels outside of its lane because they were traveling at too high a speed and were unable to stop in time, there is a loss of control of the big rig or because they rear-ended another vehicle. There are four specific reasons for driver errors involving tractor trailers. They include the following:
Non-performance: The trucker fell asleep behind the wheel or was impaired in some other way
Recognition: The driver didn't pay adequate attention due to distraction
Decision: The trucker made a poor decision and was traveling too fast, too close or misjudged the speed of other vehicles
Performance: The trucker overcompensated or used poor directional control
A car crash involving big trucks can have devastating, long-lasting effects. If you have been injured after such an accident, call Tate Law Group to help you get the settlement you deserve.