SAVANNAH, GA (WTOC) – A settlement has been reached in at least one of the lawsuits against the trucking company involved in a deadly wreck that killed five Georgia Southern nursing students and seriously injured two others, last year.
"Maybe they'll wake up and implement new safety plans," said Dalton Richards, the father of Megan Richards, who survived the I-16 crash.
The wake-up call has come a year too late for Abbie DeLoach's father, Jimmy. It was almost one year ago to the day: April 22. Seven Georgia Southern Nursing students were on their way to the last day of clinicals in Savannah – a day of elation for young nurses. But on a stretch of I-16, it all took a deadly turn.
A few weeks later, the families of the young ladies who lost their lives, and the two who somehow walked away from the nightmare, sued the trucking company Total Transportation of Mississippi.
Abbie DeLoach's mother, Kim, says her family has settled their suit against the company, but it's been a week of pain; like ripping the band-aid off a still fresh wound. Attorney Mark Tate represents the DeLoach's.
"At the end of the day, no amount of money can undo this terrible thing that has happened," Tate said.
Critics questioned the speedy lawsuits.
"Evidence goes stale, memories begin to fade, and there was information we had to find out to determine what happened," said Tate.
Now, The DeLoachs can only reflect on what might have been. All seven girls would have graduated together this December. Everyone who knew them is still struggling.
Here was the hope one year ago from Abbie's father Jimmy.
"How can I make sure that you don't receive that phone call that sends your world into a different spin," he said.
Tate says the DeLoach family believes a wake-up call to trucking companies may just be one part of their grieving, and of Abbie's legacy.
The company owned up to their responsibilities, and are interested in improving trucking safety.
A news conference is scheduled for Thursday in Statesboro, with family members of other victims of the crash. We will be at that conference and we'll bring you the latest on suits against the company.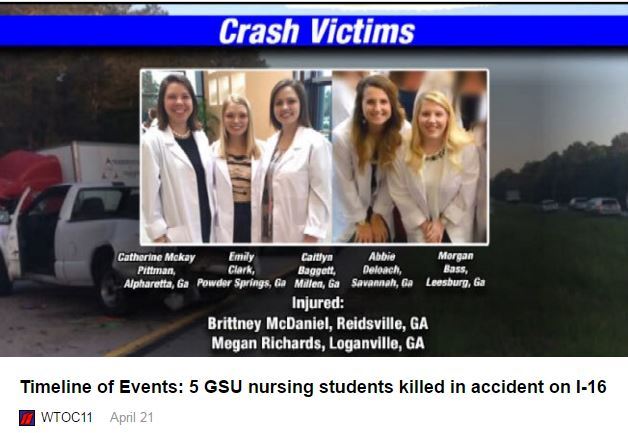 To view the article on WTOC's website, click here. If you or a loved one was seriously injured or killed in a trucking accident in Georgia, contact Tate Law Group today!