STATESBORO, GA (WTOC) – A settlement has been reached in the lawsuit against the trucking company involved in the fatal crash that killed five Georgia Southern University nursing students and injured two others.
The families of the nursing students and their attorneys are coming together on Thursday at Georgia Southern to speak on the settlements. One attorney with the family spoke to WTOC, reiterating that no amount of money could undo this terrible loss.
We will hear from family members on Thursday on the wrongful death lawsuits filed against Total Transportation, based out of Mississippi.
Friday marks the one year anniversary of that tragic accident. Caitlyn Baggett was one of the students killed, and her parents' case was set to go to trial in May, but they've now settled the suit against the trucking transportation company associated with the man that caused the collision in Bryan County.
Attorney Bob Cheely is the attorney for four of the families, and Mark Tate is representing the other family, who have all continuously stressed their concerns on truck safety ever since that fateful morning in 2015.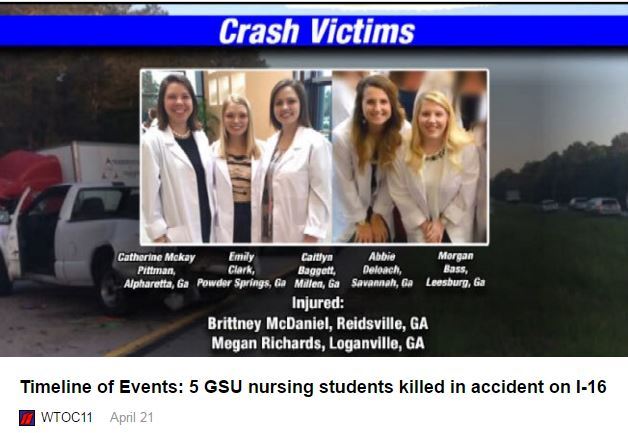 Highway safety officials said they've been training with local law enforcement to spot trucking problems.
We've trained over 1,000 officers statewide," said Governor's Board of Highway Safety Director Harris Blackwood. "Our first focus was the I-16/I-95 corridor, but we've spread that to other parts of the state, and we believe that's going to result in some improved numbers in truck safety.
"There are many drivers in Georgia, and throughout this country, who are safe operators on the road and do a great job. What we want to do is catch the ones that aren't safe and make sure that they are taken off the road or correct their actions."
The news conference with the families and their attorneys on the settlement will begin at 11 a.m. at the Nursing Building on the campus of Georgia Southern University.
WTOC will bring you much more coming up on THE News.
View article on original source here.