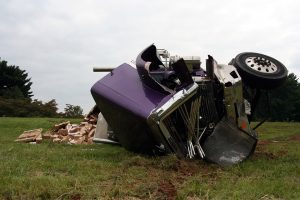 Accidents involving big rigs are easily the worst collisions on the open highway, as standard passenger vehicles are never a physical match for any commercial truck regardless of the speed at impact. Many cars can actually fit underneath a flatbed in certain situations, which practically always results in fatalities. The sheer weight alone means that stopping distances are also much greater with trucks than standard cars, especially at a high rate of speed, and maintaining a safe distance can be difficult in congested traffic. But, there are certain aspects of truck accidents that many drivers do not realize when it comes time for financial compensation that will always require solid representation by an experienced tractor trailer crash lawyer Savannah.
Need a Tractor Trailer Collision Lawyer Savannah ASAP?
Truck accidents are different from a typical vehicle accident because many times the driver is on official work duty at the time of the crash. This means that the employing shipping company could be liable for damages when the driver is operating outside of highway rules and regulations on company instructions. Trucking companies usually try to address the accident immediately in an effort to reduce potential damages, including influencing potential fault in the crash. The truth is that statistics have shown most accidents involving trucks are determined as the fault of the car driver as opposed to the truck driver, which can then result in denial of financial compensation in Georgia. In addition, multiple vehicles are commonly included in a truck crash, which means that each party will have legal representation as well in most cases looking out for their client's interests, especially when fatalities occur.
Understanding Comparative Negligence in Georgia
Fault and negligence are central to all accident settlements, including truck crashes. Georgia is one of the states that utilizes modified comparative negligence at the 50% bar percentage, which means that the only injured drivers who are eligible for financial damages following an accident are those with less than 50% fault. Even a standard two-car accident where drivers are equally at fault will result denied financial damages unless the injured parties carry personal injury protection on their own auto policy. This a very strict rule, and the trucking companies always work diligently to increase the comparative fault percentage of all drivers in a truck accident case. This is largely why the trucking companies are so quick to investigate the collision, as it can save the company a huge amount of money by avoiding a claim. Your truck collision lawyer Savannah understands how shipping companies work following a wreck, and they will conduct a separate investigation into all aspects of the incident in an effort to establish minimal fault for their client.
Potential Damages
The best component of a truck accident claim is that those who are eligible for financial compensation can often receive whole damages, especially when the truck driver is obviously at fault. Trucking companies will still attempt to deflect at least some level of fault to the injured driver because the final percentage will be used to discount the total value of any claim. In addition, punitive damages could be available when the truck driver is found guilty of gross negligence in a full trial presented by an experienced and aggressive tractor-trailer crash lawyer who understands how to craft a case for maximum compensation. Product liability claims can also stem from truck accidents when automotive equipment malfunctions such as an exploding airbag.
Contact a Tractor-Trailer Collision Lawyer Savannah
Truck accidents in Georgia are often very complicated legal issues, and they are always defended strongly because of the potential for limited compensation in questionable cases. It is vital for those eligible for financial compensation to always have solid legal representation from a truck collision lawyer Savannah who knows what to expect from the defense and how to build a case for whole damages based on the material facts.