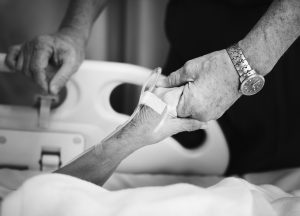 Tate Law Group successfully represents families affected by mesothelioma from asbestos
Mesothelioma is an aggressive and deadly form of cancer for which a cure is not possible in many cases.  Mesothelioma can be contracted regardless of occupation, gender, age or location. The illness can appear as general aches and pains or multiple small symptoms that may not immediately warrant a doctor's visit.  
Asbestos Exposure Linked to Mesothelioma
Asbestos are thin, microscopic fibers made of certain minerals.  Asbestos was frequently used in construction and other major industries until 1977.  If you worked with asbestos or lived in a home that was built with asbestos, you may have been put at risk to exposure.
Primary Types of Mesothelioma Lawsuits
Personal Injury Claims
Someone who has mesothelioma can file a personal injury lawsuit against the company responsible for subjecting them to the hazardous material. The concept of personal injury revolves around the idea of a basic responsibility for people to look out for each other. When such people do not meet this legal obligation to protect other citizens, the courts can hold them accountable for neglect. There are many situations in which that happens. Neglect is the element that makes the personal injury case valid, which is why you need to hire the best accident and injury lawyer Savannah has to offer. This person can bring neglect to light and request fair compensation for your troubles.
Wrongful Death Lawsuits
Family members may have the option to file wrongful death lawsuits if a mesothelioma patient passes away before a lawsuit is resolved. This can help assist with compensation toward medical bills, funeral expenses, and income loss.
Choosing a Mesothelioma Attorney
When it comes to medical lawsuits, it's imperative to find a mesothelioma attorney who has a strong track record of success.
A good mesothelioma attorney understands that larger corporations have the funds set aside to help pay for any expenses related to mesothelioma patients. Additionally, a mesothelioma attorney understands the asbestos manufacturing process and can determine who should be responsible for patients and their families suffering from this lung disease.
Mesothelioma from asbestos is one of the most common types of medical-related lawsuits in the United today.  If you or a loved one has experienced illness or financial strain due to mesothelioma, contact a trusted local Savannah, GA lawyer today.  Tate Law Group has extensive experience in lawsuits related to mesothelioma from asbestos exposure.