Who is Prescribed Elmiron®?
Patients who have interstitial cystitis may be prescribed Elmiron® to help relieve the symptoms of this chronic condition. However, research has found that Elmiron® is strongly linked to a degenerative eye condition called pigmentary maculopathy. Despite the strong evidence that this medication causes such a severe side effect, surprisingly, it's still on the market.
This infographic explains the facts about this dangerous drug.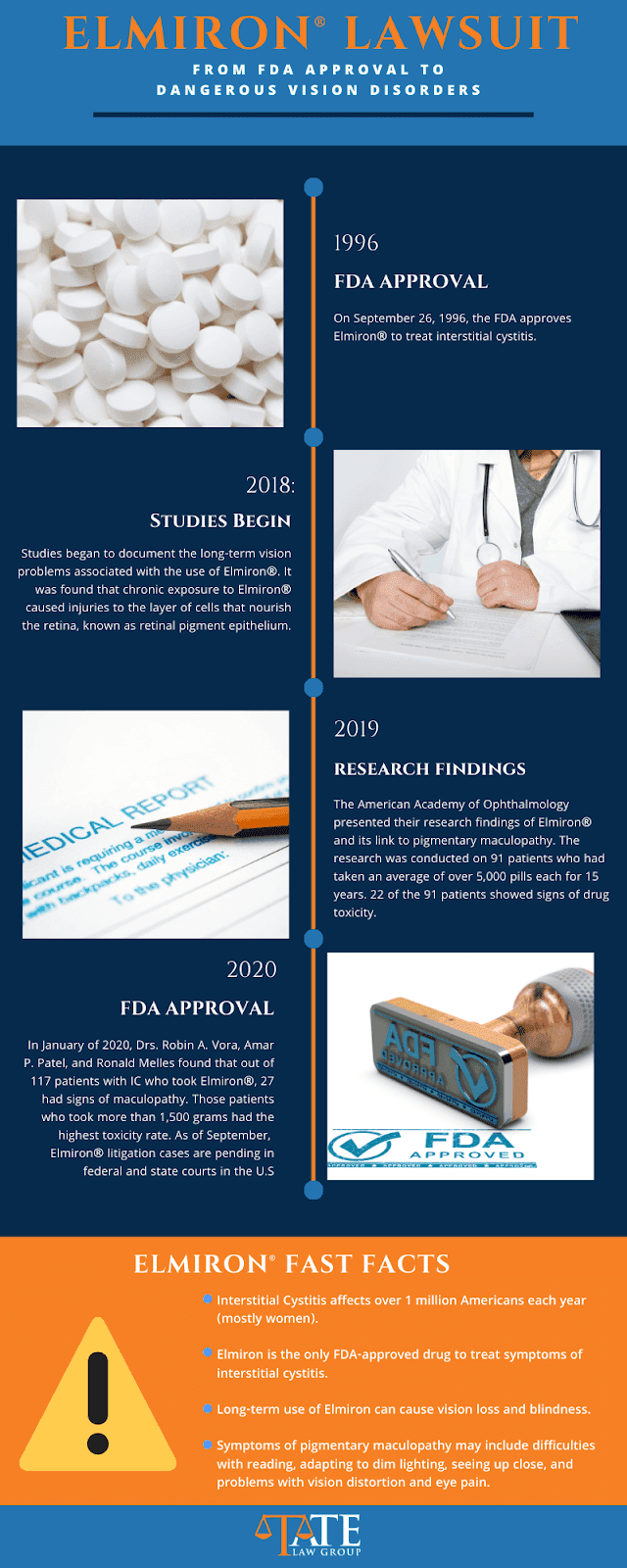 When Was Elmiron® Approved By the FDA?
On September 26, 1996, the FDA approved the drug Elmiron® to treat interstitial cystitis, a chronic bladder condition that affects women more than it affects men.
2018: Studies began to document the long-term vision problems associated with the use of Elmiron®. It was found that chronic exposure to Elmiron® caused injuries to the layer of cells that nourish the retina, known as retinal pigment epithelium.
2019: The American Academy of Ophthalmology presented their research findings of Elmiron® and its link to pigmentary maculopathy. The research was conducted on 91 patients who had taken an average of over 5,000 pills each for 15 years. 22 of the 91 patients showed signs of drug toxicity.
2020: In January of 2020, Drs. Robin A. Vora, Amar P. Patel, and Ronald Melles found that out of 117 patients with IC who took Elmiron®, 27 had signs of maculopathy. Those patients who took more than 1,500 grams had the highest toxicity rate. As of September, roughly Elmiron® litigation cases are pending in federal and state courts in the U.S
2020: Before June 2020, prescribing information listed the side effects; however, it did not include a warning about the drug's associated risk to pigmentary maculopathy.
Elmiron® Fast Facts:
Interstitial Cystitis affects over 1 million Americans each year (mostly women).
Elmiron is the only FDA-approved drug to treat symptoms of interstitial cystitis.
Long-term use of Elmiron can cause vision loss and blindness.
Symptoms of pigmentary maculopathy may include difficulties with reading, adapting to dim lighting, seeing up close, and problems with vision distortion and eye pain.
Data Sources:
Harmed by a Dangerous Drug? We are Here For You.
FDA approval doesn't always mean the drugs you take are entirely safe. If you've been prescribed Elmiron or any other dangerous drug, we are here to help. Attorney Mark Tate has been practicing law for over 20 years and has extensive experience with dangerous drug litigation. Our nationally renowned law firm is here to help you seek justice and receive the maximum compensation you deserve.
To discuss your case with an attorney at Tate Law Group, LLC, call (912) 234-3030 for a free consultation or contact us here.